Story Project: Celine's Helping Hands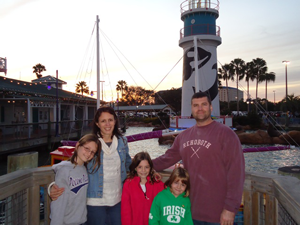 On the homefront, the O'Neill family in Philadelphia is still adapting to father Michael's second deployment as an Army reservist. This time around, a friend created Celine's Helping Hands to support Celine and her three young daughters while their father is stationed in the Horn of Africa. More than 30 friends and neighbors deliver meals and provide babysitting, playdates, and carpooling, all to give Celine help and relief.
"My Lotsa Helping Hands Community has been such a wonderful resource, helping me manage all of my responsibilities as a one-adult household again," said Celine. "It's hard for me to call up people and ask for help - even people who say to me, 'let me know what I can do.' With the Lotsa website, it takes the guesswork out of it for me so people can choose what and when they want to help with."
Celine's husband Michael was previously an active duty soldier, but after September 11th, he re-enlisted as a reservist. Celine also does not have any immediate family in the Philadelphia area, so she relies on her Community to support her and her three young daughters. She said she expects the Community to get busier as soon as the school year starts up again. Michael is due home sometime in the late winter or spring of 2013, but until then, Celine's Helping Hands, will be around to support Celine and her family.